MEDIA NEWS SHARE: IDAHO STATE JOURNAL
https://www.idahostatejournal.com/news/local/governor-to-sign-proclamation-at-museum-of-clean-for-cleaning-week/article_13d920c5-d2fa-518c-9c60-d612d008af57.html?fbclid=IwAR1RYF0Hp37IFVsSvrABe-jbRidxJiJPCtoOfnDOMGbeYxJ6OVMhd7j-zIg
By John O'Connell joconnell@journalnet.com
Mar 17, 2022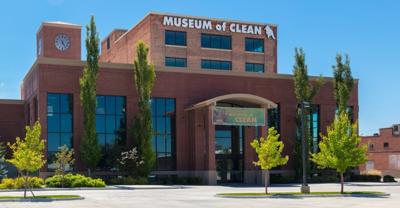 POCATELLO — Local housekeepers and janitors will be the guests of honor when Gov. Brad Little visits Pocatello on Saturday morning to sign a proclamation.
During his 10 a.m. visit at the Museum of Clean, 711 S. Second Ave., Little will officially declare March 27 through April 2 to be Cleaning Week in Idaho.
Grant Aslett, marketing specialist for the museum, which was created by his father Don, believes the honor is both well deserved and overdue for a group of workers who remain behind the scenes but help society function.
"They do most of their work at night. You hardly see them but they're the ones who keep the world moving clean-wise," Aslett said.
National Cleaning Week is being promoted by the International Sanitary Supply Association, which is the leading worldwide association for the cleaning industry.
"The pandemic has demonstrated the essential role that cleaning professionals like custodians, housekeepers and environmental service workers play in keeping people safe," ISSA Executive Director John Barrett said in a press release. "Because cleanliness impacts every industry, everyone can get involved in celebrating the value and achievements of these essential workers and advocating for a cleaner and healthier world."
Aslett explained several states have already issued Cleaning Week proclamations. He agrees that the pandemic elevated awareness about the important role cleaning professionals play in sanitation and keeping the public safe.
"Being in a janitor family all of my life, people treat janitors as like, 'Clean it up!' Hotel housekeepers come in and clean your room but are hardly recognized," Aslett said.
Aslett said he's been calling area custodians and housekeepers, including some from Portneuf Medical Center, offering invitations to the event "so they can get some recognition."
He also invited some of the usual local dignitaries to attend, including Pocatello Mayor Brian Blad.
As for the Museum of Clean, Aslett said a dog-powered washing machine the museum recently acquired has been a popular addition, and the museum is in negotiations with a Chicago man to obtain the bulk of his extensive collection of unique soap products.